Welcome
Rent a 14-seater (13+1), 17-seater (16+1), or 20-seater (19+1) minibus by JOYRIDE car hire, if you desire throughout Germany.

For driving the minibuses you need an bus-licence - here you find a bus-licence example.
If you don't have a driving licence category D1 (small bus-licence - take a look at our conditions) or driving licence
category D (big bus-licence), we also offer you qualified and eloquent busdrivers of our driver-lease for the minibuses.

You can receive the minibuses also in the variants of a 10-seater bus, 11-seater bus, 12-seater bus, 13-seater bus, 14-seater bus, 15-seater bus, 16-seater bus ,17-seater bus, 18-seater bus, 19-seater bus + 1 driverseat, by reduction of seats for more luggage capacity.

Nonsmoker minibuses!
13+1 - seater Minibus Ford Transit
The Ford Transit in the variant of a 14-seat minibus is perfectly for shuttle traffic. The lateral sliding door and the double-wing-tail door enable an easy stepping in and stepping out.

The vehicle is 6,00 m long and 2.30 m wide (incl. mirrors) and 2.50 m high.

Everybody who carries regularly persons, appreciates a 14-seat minibus! The car-similar characteristics provide confident and precise handling.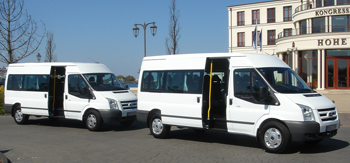 14-seater Ford Transit minibuses from JOYRIDE in front of the congress center Hohe Duene in Rostock - Warnemuende
16+1 - seater Minibus Fiat Ducato
The Fiat Ducato has a high standard of comfort for all traveller. With its capacity of 13 - 16 seats plus driverseat and its interior, the Fiat Ducato gives consideration to every passenger.

The vehicle is 6.40 m long, 2.40 m wide (incl. mirrors) and 2.70 m high.

All seats have head-cushions, seat-belts and flexible arm-rests. Because of the moveable footboard, the moving in and out of the minibus is very easy.


17-seater Fiat Ducato minibuses from JOYRIDE in Groß Mackenstedt near Bremen
17+1 - Sitzer Minibus Ford Transit
The Ford Transit minibus has 18 seats. The two-seater bench for the co-driver is for 2 people less comfortable, but all the other seats have an adjustable backrest. The Transit has a air conditioner in front and back, a microphone connector, a USB port and an internal 220 volt outlet.
The external dimensions of the transit are 6.70 m long, 2.30 m wide (including mirrors) and 2.75 m height.

With luggage capacity, the removal of the rear seats is recommended. An automatically extendable boarding aid for easier entering and exiting through the large side door.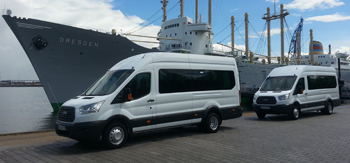 18-seater Ford Transit minibuses from JOYRIDE at the port of Rostock
16+1 - Sitzer Minibus VW Crafter 50
The VW Crafter minibus Hanover combines the superior equipment with leather seats, auxiliary heater, cruise control, navigation and a reversing camera with the reliability of a Volkswagen product.
The car is 7.35 meters long, 2.40 meters wide (including mirrors) and 3.00 m high.

The seats can be moved on the rail system. So you can variable adjust the luggage room or the intermediate spacings.

An automatically-opening side door with an automatically extendable boarding aid makes it easy to enter and exit the minibus.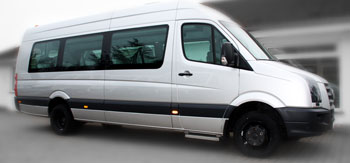 17-seater VW Crafter minibuses from JOYRIDE
20+1 - Seater Mercedes Sprinter 519 XXL Comfort
The Mercedes Benz 516 Sprinter has a capacity of 19 seats plus driverseat plus codriverseat. With its interior and comfort the minibus will fullfil all passenger needs.

The vehicle is 7,77 m long, 2.40 m wide (incl. mirrors) and 2,90 m high.

An automatically opening door and two entry-handrailings ensure an easy entry. Flexible arm-rests, a 17-inch monitor and a CD- & DVD player provide comfortable driving and travelling experience.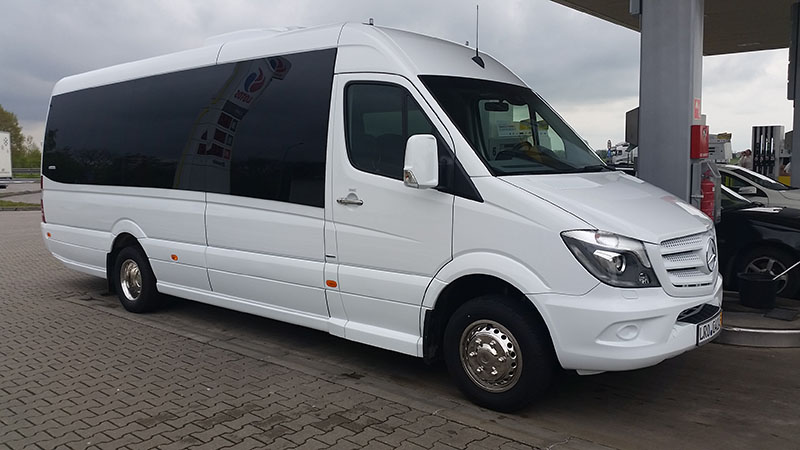 20+1 - Seater Mercedes Sprinter 519 XXL Comfort minibus from JOYRIDE